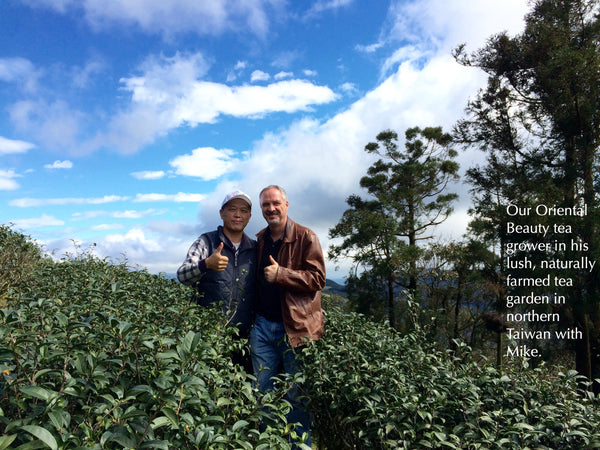 Back in stock! Oriental Beauty Oolong Tea - Limited Edition
Wang and Dickerson is proud to offer a rare top grade Oriental Beauty Oolong to our tea enthusiasts. 
The top Oriental Beauty Oolong ranks among the most expensive tea in the world. Supply is limited, resulting in an increase in price, but the pleasure it brings is truly priceless. We are so pleased to bring this tea to the USA!
It is 70% oxidized which gives it a medium body, a silky smooth flavor and an elegant floral fragrance. The tea leaves exhibit a beautiful mixture of robust browns, rich reds and delicate greens with silvery white tips. The taste experience is a sophisticated balance of honey-like sweetness and hints of ripe apricot. This unique flavor profile is deeply linked to its terroir and to its artisan producer.
High quality Oriental Beauty Oolong is never machine picked, and tea pickers need to have the knowledge and experience to know which leaves will make the best tea. It takes about twenty two thousand young shoots to make one pound of finished Oriental Beauty Oolong tea. Experienced pickers can only harvest enough shoots in one day to make between one and three pounds of tea.
Our Oriental Beauty is grown exclusively in the northwestern region of Taiwan. It comes from a natural farming estate that is dedicated to preserving the environment while producing a top quality tea. No herbicides, pesticides or fertilizers were used to grow this tea. It has a sophisticated balance of bold flavor, honey-like sweetness and hints of apricot that will impress your palate. This rare and delicious tea exhibits a beautiful floral fragrance. Indulge yourself with a cup of luxury!  Read more about our grower...
Origin: Ping Ling District, New Taipei City, Taiwan